Horsham PFAS Community Engagement Event Wrap-up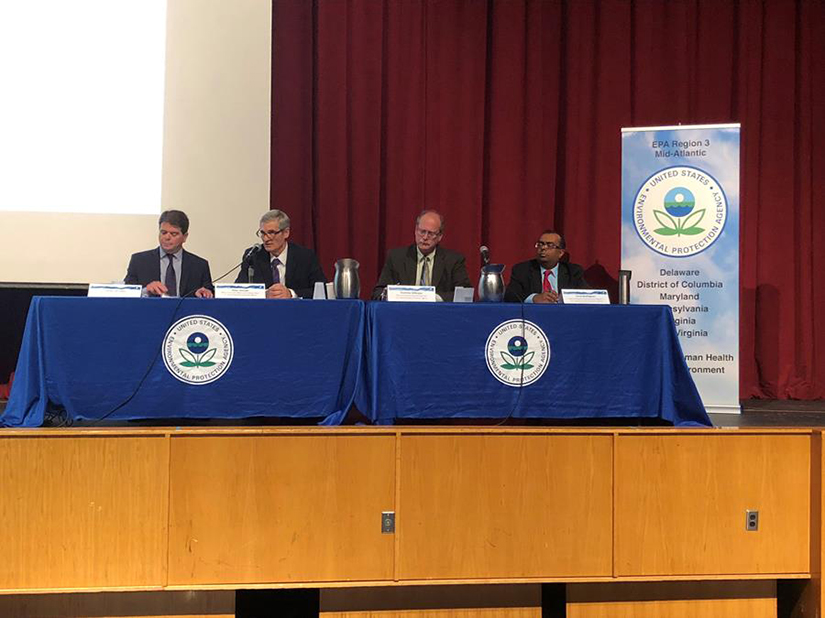 The United States Environmental Protection Agency (EPA) Region 3 hosted a PFAS community engagement event on July 25, 2017 in Horsham, PA. This is the second such meeting, with the first held in New Hampshire and two additional meetings planned in August. The purpose of the meetings is to facilitate engagement between the EPA, other federal agencies, state regulators, and impacted communities. The communities surrounding the Horsham meeting site are known to have been affected by PFAS originating from the Naval Air Station Joint Reserve Base (NASJRB) Willow Grove and/or the Air National Guard (ANG) Station in Horsham. These meetings build on the National Leadership Summit that was held in Washington, DC in May 2017. A four-step action plan was announced at this summit and is available on the EPA's PFAS website.
Staff from the EPA; the Agency for Toxic Substances and Disease Registry (ASTDR); Department of Defense; state drinking water and environmental agencies from DE, MD, PA, and WV; local community officials from Horsham, Warminster, Warrington, and Warwick townships; a representative from Aqua America (local water utility); and three community member representatives participated in panel discussions during the working session. A listening session followed where community members were provided the opportunity to speak to the representatives present. A main objective of the event was to allow EPA representatives to listen to and consider direction from state regulators, community officials, and community members. EPA representatives repeatedly voiced the importance of these community engagement sessions in bringing local perspective and issues to the agency for consideration and action.
The state agency representatives consistently delivered a common message that they expect the EPA to: 1) expeditiously develop action levels for PFAS; 2) provide direction on investigation and remediation methods; and 3) provide federal funding for PFAS sites. The township officials were unanimous in their expectation that their community members are provided PFAS-free ("non-detect") drinking water and that all costs are born by the responsible party or from federal funding sources. All four townships invited to the panel discussion have public supply wells and/or private wells that are impacted by PFAS.
Key federal ongoing actions include:
Developing draft toxicity values for PFBS and GenX

Testing of current drinking water method (Method 537) to add six additional PFAS which will bring the total to 20 PFAS chemicals

Developing laboratory analytical methods for 20 PFAS in surface water, groundwater, and solids

Completing computational assay of 75 PFAS  from cell cultures for toxicity value development

Developing analytical methods for "non-targeted compounds"

Developing sampling and site characterization techniques to better understand sources and behavior

Reviewing cost and performance data and conducting additional testing of granular activated carbon (GAC) and ion exchange (IX) resin

Evaluating end of life management for PFAS (e.g., landfilling, incineration) and assess contributions to PFAS in the environment

Evaluating air sampling methods for PFAS

Continuing to update/work on risk communication (what we know and what we don't)

Continuing to assess and address drinking water exposures associated with military installations

Ongoing support to states, tribes, and communities for managing PFAS risk

Conducting exposure assessment and health study ($10MM to be funded by DoD to ASTDR)

Addressing public comments and completing ASTDR's Toxicological Profile for Perfluoroalkyls report
PFAS continues to drive current discussion on safe drinking water. There are as many as 3,500 compounds in the general PFAS family, so this work will be ongoing for many years. As demonstrated by several of the in-progress and planned actions by the EPA and ASTDR, attention is also turning to better evaluating other impacted media (groundwater, surface water, soil, air, and solids) while PFAS exposures and risks continue to be studied and quantified.  When the EPA designates PFOA and PFOS as "hazardous substances," the EPA will have broader enforcement authority. Concurrently, ASTDR is finalizing their toxicological profile which suggests lower risk values for PFOA (11 ng/L) and PFOS (7 ng/L) than currently used by the EPA and multiple state agencies and introduces risk values for PFNA (11 ng/L) and PFHxS (74 ng/L) (based on minimal risk levels [MRLs] in the draft report as equated to drinking water values by the Association of State Drinking Water Administrators).
Impacted communities are seeking drinking water that is free of PFAS – regardless of current action levels on the state or federal level. The township representatives at the meeting all implemented GAC treatment for their PFAS-impacted groundwater, but several are evaluating replacing all or some of the GAC units with IX resin units which offer smaller equipment footprint and possibly longer life. Affected communities, such as those around these military installations, are on the front lines of PFAS every day. While we as scientists and engineers seek to better understand the nature of PFAS risks, it is important to remember that there are people directly affected by the presence of PFAS in their drinking water on a daily basis. As PFAS-impacted waters continue to be identified, what initially seemed like a patchwork of isolated instances is beginning to take the form of a wider issue across the country and around the world.
Future EPA Community Engagement Events – Colorado Springs, CO Aug 7-8, Fayetteville, NC Aug 14