What to Make of the Proposed Redefinition of WOTUS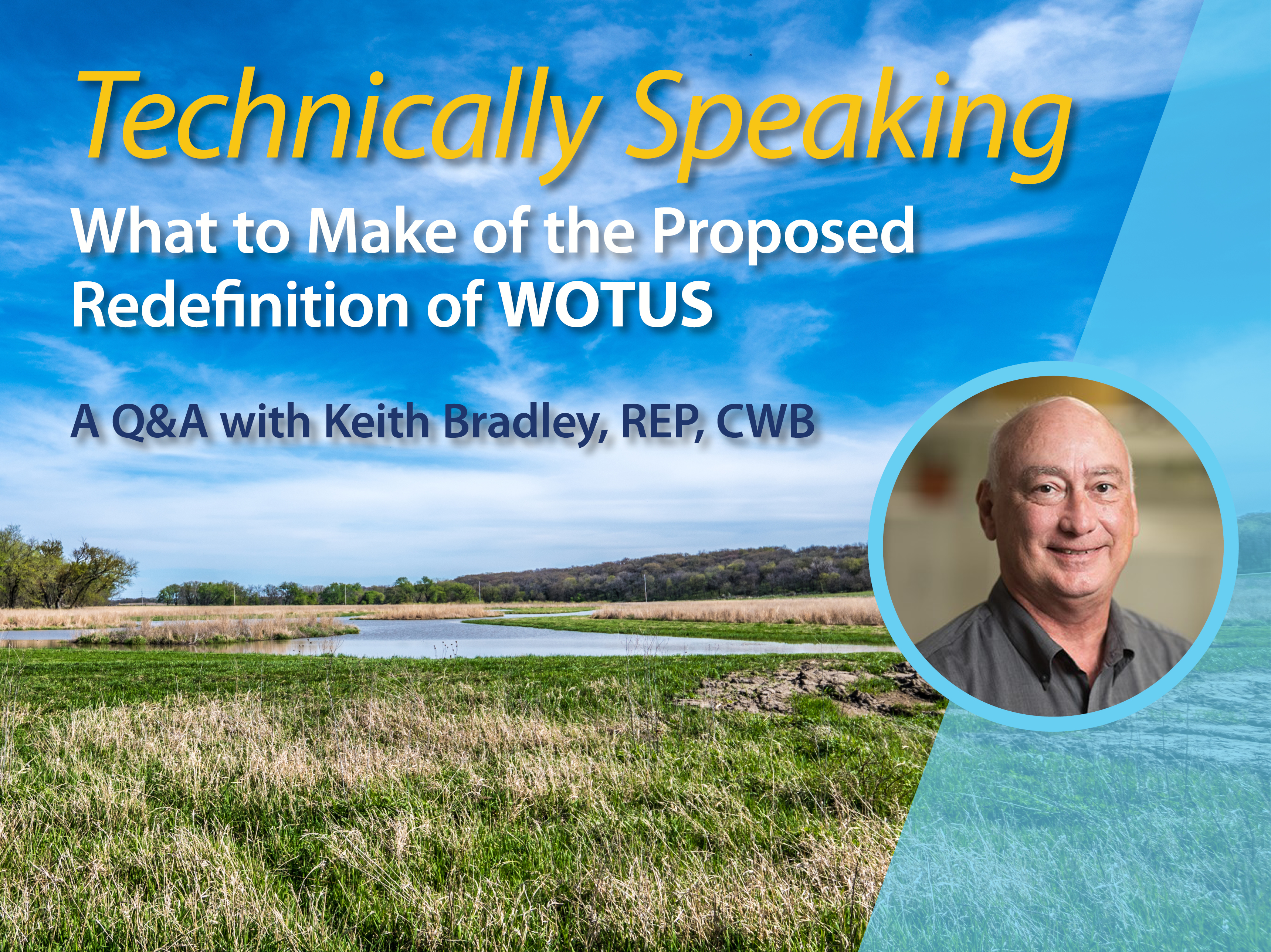 Technically Speaking
A Q&A series featuring GES subject matter experts sharing insights on current issues relevant to GES and our clients.
We kick off our 2019 Technically Speaking Series with GES' Director of Water and Natural Resources, Keith Bradley, REP, CWB. Keith has more than 40 years of experience managing a wide range of natural resources projects throughout the US with a specialization in projects regulated by the Clean Water Act, Endangered Species Act, Migratory Bird Treaty Act, Coastal Zone Management Act, and National Environmental Policy Act. Keith shares his perspective on the recently proposed changes to the Waters of the US (WOTUS) definition as well as advice for project owners planning for the future.
Let's jump right into it. There's been quite a bit of discussion and speculation in the industry about the future of the Clean Water Act. Can you bring us up to speed on the current status of the Clean Water Act, and more specifically, the Waters of the US definition?
KB.  The Clean Water Act definition of a WOTUS has always been problematic because of its ambiguity and it has been interpreted various ways over time.  WOTUS (sometimes referred to as "jurisdictional waters") is essentially the waters that are subject to federal regulation under the Clean Water Act. The definition has been the subject of numerous court cases, and remains unsettled due to court challenges to the 2015 "Clean Water Rule".  On December 11, 2018, the United States Environmental Protection Agency (EPA) and the US Department of the Army (Army) jointly published a proposed rule that would redefine WOTUS. The proposal was largely anticipated across the industry following President Trump's Executive Order signed in February 2017. The most significant proposed change to the current definition is the removal of ephemeral streams and wetlands "adjacent" to ephemeral streams from Clean Water Act jurisdiction.  Ephemeral streams only flow during and shortly after rainfall events and generally don't have a connection to groundwater.
The very first thing to keep in mind is that the proposed rule change is just that—a proposal. When the EPA and Army published this draft rule, they simply started the process on what has the potential to be a lengthy public comment and review period, likely followed by legal challenges. Until, and unless, it is published as a final rule in the Federal Register, it has no standing.
Is there an expectation as to when this regulatory revision might be finalized and put into effect?
KB. The plan was to publish the draft rule in the Federal Register in early January 2019, followed by a 60-day comment period.  However, due to the federal shutdown, the proposed rule has not been published as of this writing, so that schedule will continue to shift until it is published.  However, given the history of legal challenges to WOTUS rulemaking, the general consensus is that it could take quite a while for all the dust to settle.  I won't even try to speculate on how long.    
This seems like it could have a pretty substantial impact on infrastructure projects going forward. Are you seeing this begin to affect project planning and permitting approaches?
KB. Our clients sense that the WOTUS definition is unlikely to get resolved quickly, so for near-term projects (say, within 1 year), they are proceeding under the current definition, at least so far.  That is the case, for example, with most routine development projects needing a Section 404 ("dredge and fill") permit or oil well that needs a Spill Prevention, Control, and Countermeasures Plan.  It gets trickier for projects that are longer-term and could be significantly affected by the proposed redefinition.   For now, the federal regulatory agencies are processing permits under current WOTUS definitions and don't seem to be trying to anticipate the fate or schedule for the proposed WOTUS redefinition. 
It is very important to understand that the proposed rule change is limited to the federal definition. Regardless of the Clean Water Act definition of WOTUS, discharges into streams and wetlands are also regulated in many states as "Waters of the State" and those requirements should not be affected by the proposed federal rulemaking. Two states administer the federal Section 404 program in addition to state requirements:  Michigan and New Jersey.  The implications of a change in the federal WOTUS definition in those states isn't yet clear, but as a practical matter, a project would be held to the more rigorous of the state and federal requirements.  Of course, where there are also relevant municipal requirements, those would also not be expected to be affected by the federal WOTUS redefinition.  Speculation regarding potential strengthening of protection for ephemeral streams and adjacent wetlands at the state (or lower) level (in the event that WOTUS is redefined as proposed) adds to the uncertainty for long-range planning. 
How are you advising clients with projects with long-range plans?
KB. The potential significance of the proposed redefinition can be millions of dollars, which can affect site selection, or project design, or even turn a project "Go" into a "No Go".   Where the potential significance is large, we are advising those clients to retain flexibility for as long as possible.  For example, where getting a Section 404 permit is in the critical path for a project, we are advising clients to get the permit under existing definitions, but to try and delay impacts to ephemeral streams and purchase of ephemeral mitigation credits until absolutely necessary (generally right before impacts).  For our stream and wetland mitigation banking clients, we are considering ephemeral streams separately in the pro forma to ensure that the bank will be financially viable under the proposed new definition.  Unfortunately, we anticipate that some projects may be intentionally delayed until there is more regulatory certainty.
What advice can you share with readers who are interested in following the developments of this issue?
KB. This has been a very controversial and contentious issue, so different opinions and perspectives, in addition to misinformation, is easily available on the web.  As always, look for factual information from reliable sources and I would suggest checking multiple sources for balance.  The courts could ultimately play a major role in this process, so we will probably be tracking this for a lengthy time.
Keith Bradley, REP, CWB, is the Director of Water and Natural Resources at GES based in Lewisville, TX. Keith has more than 40 years of experience managing a wide range of natural resources projects throughout the US, particularly projects regulated by the Clean Water Act, Endangered Species Act, Migratory Bird Treaty Act, Coastal Zone Management Act, and National Environmental Policy Act. He has also performed and directed major environmental projects under authority of Superfund, RCRA, and TSCA. Keith routinely provides environmental regulatory training, regulatory and community interfacing, and expert witness testimony. Keith is a Registered Environmental Professional (REP), Certified Wildlife Biologist, and FAA-Qualified Biologist. He possesses a Master of Science in Environmental Science from the University of Texas at Dallas and a Bachelor of Science in Biology from the University of West Florida.
Contact Keith at kbradley@GESonline.com