GES Adds Gregorek to Drive Midwest Client Development Efforts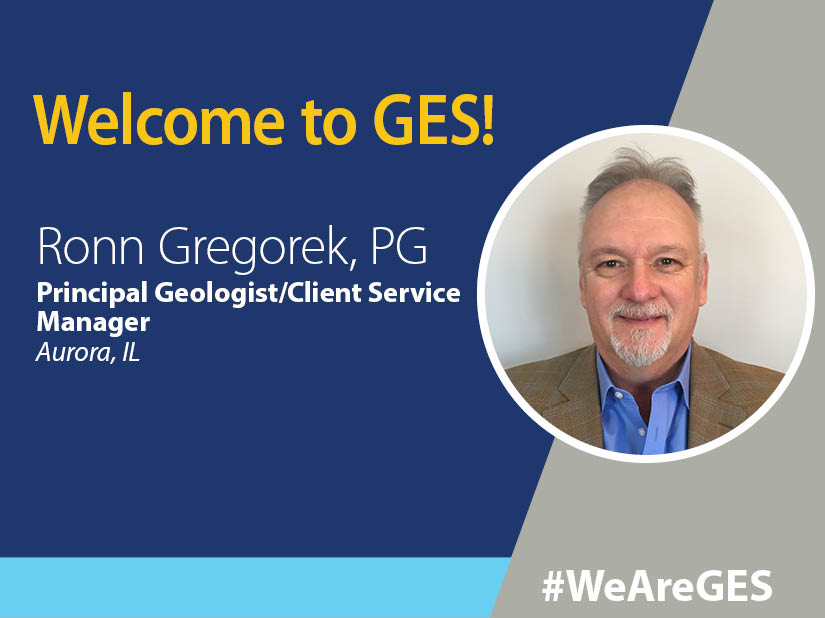 GES is pleased to announce the hiring of Ronn Gregorek, PG, in the role of Principal Geologist/Client Service Manager based in our Aurora, IL office. Ronn's primary focus will be on accelerating the growth and diversification of GES' client base in the Midwest region. He will also serve as a senior technical resource to teams throughout the region.
"We are very excited to welcome Ronn to the GES team," shared Kirk Pompilius, Senior Operations Manager for the Great Lakes Region. "The addition of Ronn enhances our focus on client development in the region, drawing upon Ronn's extensive industry relationships as well as his impressive resume and technical background."
Ronn has more than 30 years of diverse environmental consulting experience. He has directly managed more than $50 million worth of project assignments in his career ranging in size, scope, and complexity—from petroleum retail portfolios to large industrial settings, such as manufactured gas plant (MGP) sites. Ronn has extensive experience in the areas environmental site assessment, soil and groundwater investigations, remediation, and construction management. He possesses intimate regulatory knowledge and has earned a strong reputation for his advocacy efforts on behalf of his clients.
Ronn is a licensed professional geologist in the state of Wisconsin and is actively engaged in the Illinois Association of Environmental Professionals and the Batavia Environmental Commission. He received a Master of Business Administration (MBA) from Benedictine University, and he holds a Bachelor of Science in Geology from Eastern Illinois University.