Non-Geolocated Waiver Approval BVLOS Drone Operation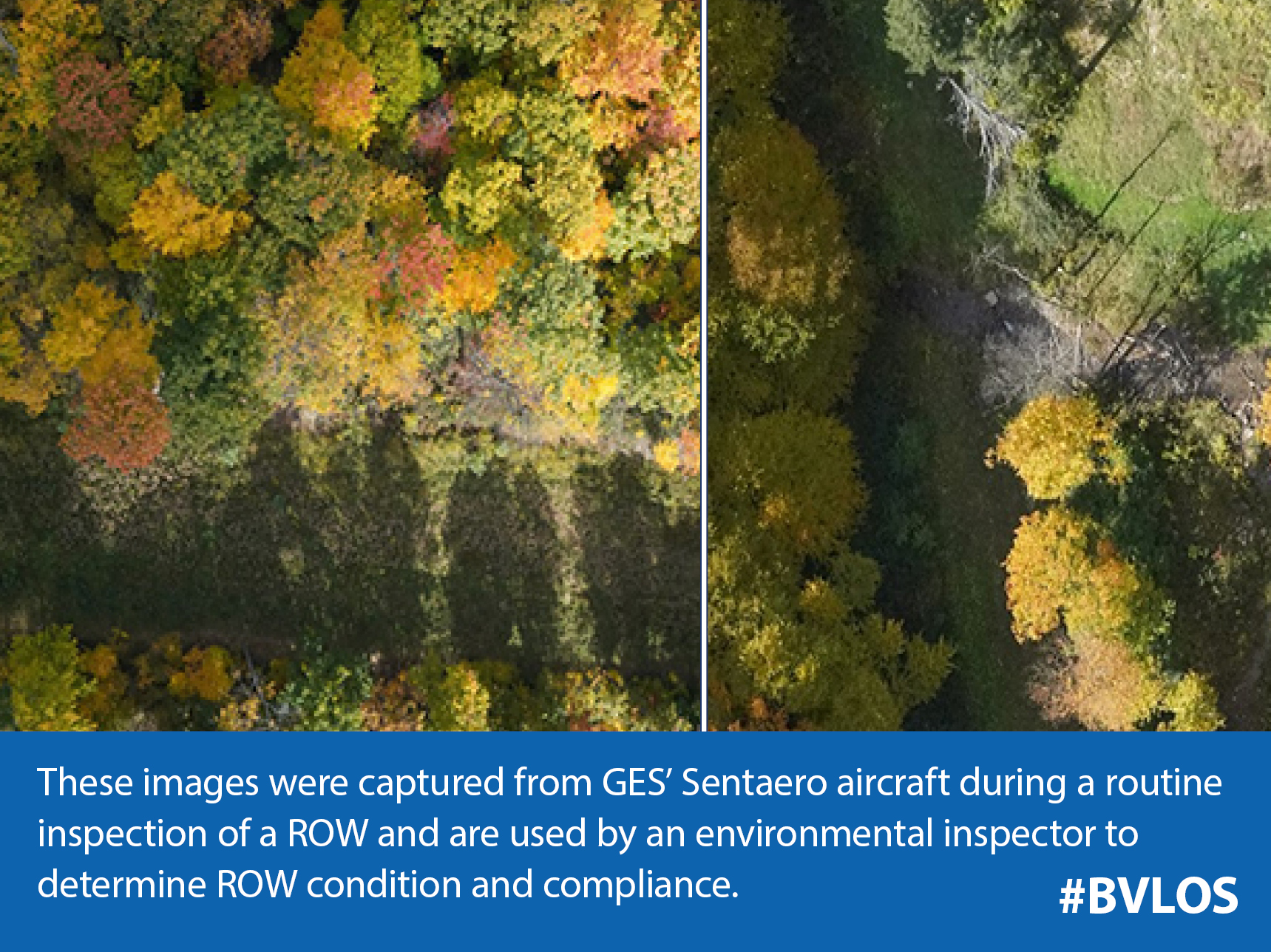 Things are looking up for small unmanned aircraft systems (sUAS aka drone) operations in 2023 with our latest achievement in beyond visual line of sight (BVLOS) operations. In 2021, Groundwater & Environmental Services (GES) was approved for BVLOS drone operation by the Federal Aviation Administration (FAA) for right-of-way (ROW) utility inspection for a specific 7-mile ROW segment.  Fast-forwarding to January 2023, we are excited to announce that GES' application for a non-geolocated waiver BVLOS waiver has been approved.  This means that we no longer need to apply for individual BVLOS waivers for areas that meet defined requirements. With our primary targeted service of long linear infrastructure ROW inspection and monitoring, such as petroleum and natural gas pipelines, our new waiver is widely applicable across the United States. 
The new waiver reduces the amount of time needed between a client request for a ROW inspection using BVLOS and the date when GES can complete the flight. Safety remains paramount, and GES must complete a safety review before a flight is conducted.  Referred to as a Specific Operations Risk Assessment (SORA), it is similar to the assessment needed under our original waiver. However, we do not have to submit the SORA to the FAA under our new non-geolocated waiver, which reduces our timeline while maintaining the same high safety standard. All flights under the non-geolocated waiver must adhere to the following parameters before the mission is cleared for takeoff:
Population density <200 persons per square mile
No inhabitable buildings within the operational area unless access to the building can be controlled during operations by GES or is client to prevent inadvertent overflight of people
No operations within 2 miles of any airfield
All operations will be within certain airspace classifications (pilots and regional UAS coordinators can make this determination)
Slope terrain (ascending or descending) cannot exceed 800' elevation change per mile
Why is this new BVLOS waiver important?
Pipeline inspection can be required by both state agencies and the federal Pipeline and Hazardous Materials Safety Administration (PHMSA), which is a division of US Department of Transportation (DOT).  For example, PHMSA requires surface inspection at stream crossing every 21 days (49 CFR §195.412), and many operators perform weekly inspections. With approximately 230,000 miles of hazardous liquid (e.g., crude and refined oil products) and 302,000 miles of natural gas transmission lines in the United States (PHMSA, 2022), the need for inspection is significant.
With our vertical take off and landing (VTOL) fixed wing Sentaero aircraft, we can provide photographic documentation of up to 20 miles per day under optimal flight conditions. Even when less distance can be covered in a day, application of sUAS technologies and a non-geolocated BVLOS waiver provides high quality inspection documentation without the need for an inspector to walk miles and miles along a ROW or waiting three months for FAA approval of BVLOS use.
BVLOS FAQs
What allows BVLOS operations?
There are several requirements, but the key component is the use of an automated detect-and-avoid system. We use the Casia 360 system with our Censys Technologies Sentaero aircraft for collision avoidance, which initiates an automated avoidance maneuver until the flight path is clear.
How far can you fly in a single flight?
Currently, we can fly up to 3 miles from the pilot in any direction. For linear infrastructure inspection, we would launch from a central location and be able to fly up to 3 miles in either direction above the ROW.
Are visual observers (VOs) needed?
Yes. The FAA allows the aircraft to be out of the line of sight of the pilot in command but still requires VOs to ensure the airspace is clear. VOs are also required at road crossings.
How many people are required?
Our typical BVLOS operations crew is three people – the pilot in command and two VOs.