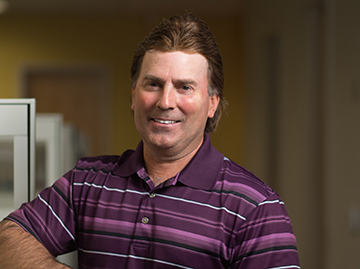 John Zelechoski leads GES' Human Resources department and is responsible for guiding the firm's talent acquisition, personnel administration, benefits, and professional development programs. He also sits on the firm's Senior Advisory Council where he works across stakeholder groups to spearhead employee retention and hiring initiatives in alignment with the firm's strategic growth plans.
John joined GES in 1991 as the first dedicated Human Resources employee. GES' workforce has grown nearly tenfold during John's tenure. He has been instrumental in establishing and modernizing the policies and programs that have helped support the firm's continued expansion into new geographic and client markets. John has played a key role in preserving GES' unique work culture and entrepreneurial spirit throughout our growth. He has helped drive the implementation of professional development programs like GES University, GES' web-based employee learning center and training environment.
John holds a Bachelor of Science in Business Management from the University of Scranton. Prior to joining GES, John gained experience working in a variety of corporate Human Resources roles for large corporations. He was drawn to GES because of its family atmosphere and the opportunity to contribute to the company's upstart environment. John sits in GES' Wall, NJ office location.
Did you Know?
Not in the office? You will most likely find John spending quality time with his family or testing his skills on a nearby golf course. He is avid New York area sports fan (Yankees and Giants) who grew up playing a number of team sports in his hometown of Forest City, PA. He applies many of his lessons learned and leadership qualities he developed during his playing days to his everyday work, helping to build and reinforce a strong team culture here at GES.