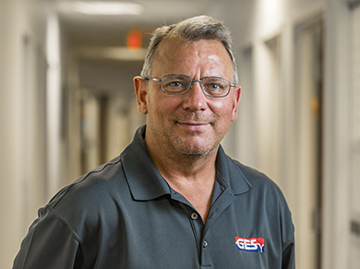 Thomas Baylis oversees GES' Health, Safety, Security, and Environment (HSSE) program, a role he has held since joining the firm in 2001. During this time, Tom has managed the implementation and ongoing operation of GES' Loss Prevention System (LPS), a behavior-based safety management program and a critical element of our comprehensive culture of safety. He oversees a team of corporate regional HSSE officers located throughout the country and is accessible as an adviser and key resource to our clients and project teams alike. Under Tom's leadership, GES has achieved an outstanding safety record, including an active streak with zero lost time injuries that dates back more than five years and a three-year TRIR average of 0.29.
Tom has 28 years of overall industry experience. He began his career as a field and laboratory technician for a national environmental firm providing groundwater sampling, water quality, and fisheries programs. He emerged as a project manager and later transitioned to a corporate health and safety role where he facilitated internal training and served as an outside safety consultant to industry. Prior to joining GES, Tom served as an Environmental Health and Safety Manager at Schein Pharmaceutical where he gained significant compliance experience related to manufacturing and laboratory operations. Tom's HSSE background encompasses program development, implementation, and management to ensure compliance with OSHA General Industry and Construction Standards.
Tom is a Certified Industrial Hygienist (CIH), achieving Diplomate status in the American Academy of Industrial Hygiene. He received a Bachelor of Science in Biochemistry from Indiana University of Pennsylvania. He is also a qualified as an LPS trainer. Tom is based in our Exton, PA office.