NJDEP Issues PFAS Survey to NJPDES Permittees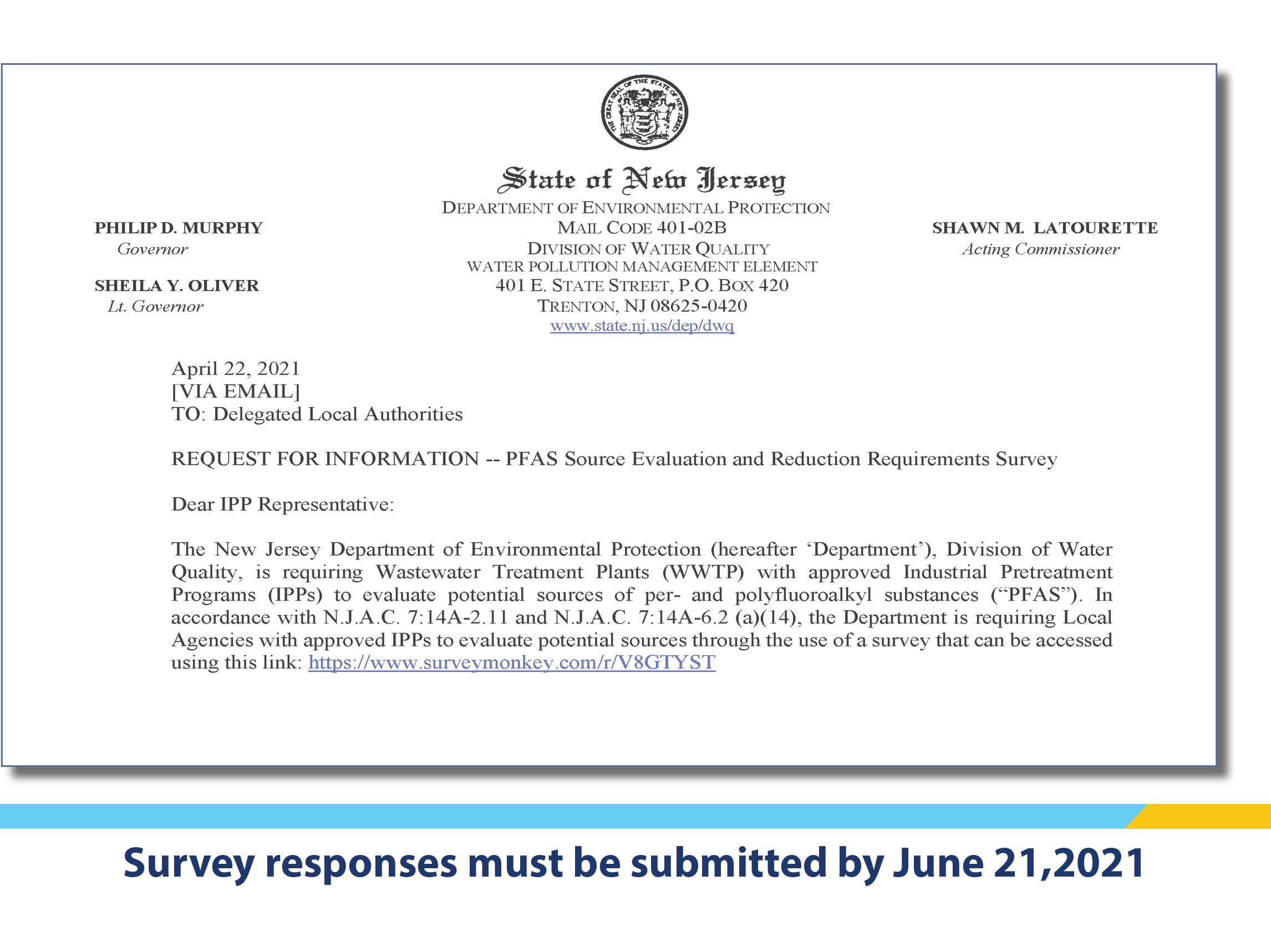 The New Jersey Department of Environmental Protection (NJDEP), Division of Water Quality, is requiring NJPDES Category B (Industrial) permittees as well as Wastewater Treatment Plants with approved Industrial Pretreatment Programs permittees to evaluate potential sources of per- and polyfluoroalkyl substances (PFAS) in their influent and comply with an online survey. If you are a permittee under either scenario, this request is designed to profile your current and past practices that may be PFAS sources. The NJDEP states that no fines or penalties will be assessed to permittees based solely on the survey answers, however the NJDEP also states that future actions may include investigation of probable sources and reduction/elimination of found sources.
Permittees must provide the following data by June 21, 2021:
Detailed information if Class B firefighting foam (aka aqueous film forming form or AFFF) has ever been stored, used, released, or discharged

List nearby sources where Class B firefighting foam has likely been stored, used, released and/or discharged

Acknowledge if your facility is one of the listed

[1]

manufacturing facilities

Detail records of past and current storage, use, application, or manufacturing of PFAS containing retail products, electrostatic control agents, friction control agents, dirt repellents, or anti-adhesives

Information regarding discharges containing PFAS

Also, identify any fluorinated chemicals handled, stored, used, applied, manufactured, machined, processed, treated, or disposed
Contact GES for expert environmental support to complete this complex request for information. In addition to completing the survey, GES' Emerging Contaminants Team can assist you with identifying PFAS uses and potential impacts at your facilities, preparing site investigation work plans and sampling plans, collecting and analyzing samples, evaluation and remediation of nearby receptors, site investigation, reporting, emergency response, and if needed, remediation services.
Don't delay. The June 21st deadline is quickly approaching. Contact your designated GES point of contact or our NJ Operations Manager, Jaimie Wuelfing, LSRP for expert environmental support at jwuelfing@gesonline.com or 800.220.3068 ext. 4170.
[1]

Airports; Aerospace; Automotive and automotive part manufacturing, including aftermarket; Fire training facilities; Oil and gas construction, production, storage (including tank farms), development, waste disposal, or transport facilities; Recreational snow sports that uses or produces ski wax; Electroplating (metal plating other than chrome plating); Electroplating (Chrome plating) facilities; Metal finishers; Centralized waste treatment firms that treat or recovers hazardous or non-hazardous industrial metal-bearing waste, oily waste, and organic- bearing waste from off-site landfills; Processing of organic materials such as meat, grains, etc.; Tanneries and leather/fabric/carpet treatment firms; Textiles; Pharmaceutical manufacturing; Electric generating or energy sector; Rubber manufacturing; Plastic manufacturing; Semiconductor or photolithography manufacturing; Worker-protection and medical textiles manufacturing; Medical devices manufacturing; Fluoropolymer manufacturing; Chemical industry (other than fluoropolymer manufacturing); Electrical wire manufacturing; Electronics manufacturing; Paper and/or package manufacturing; Manufacture of metal products; Mining; Photographics; Wood industry