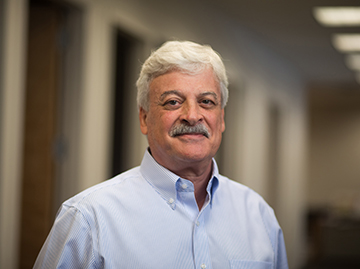 Al Murphy is a Senior Vice President responsible for driving the firm's strategic planning initiatives and innovation programs. Al works collaboratively with GES leadership across the organization to help establish the vision and framework for client development and service execution. In this role, he is tasked with evaluating and incorporating emerging technologies and new work processes into GES' project delivery programs to enhance overall client value. He also serves as the Sector Lead for GES' Power and Utilities market sector.
Al joined GES in 2009 as a Program Manager, bringing with him more than 30 years of experience in the environmental consulting industry. His background includes diverse experience in program and project management, process design, and operations involving a number of environmental technologies, chemical and mineral processes, food processing, and manufacturing technologies. Since joining GES, Al has facilitated the growth of several national client accounts in the oil and gas, industrial, and power sectors. He has directed a number of complex, multi-million dollar projects involving soil remediation, soil stabilization, sediment dredging and dewatering, and water treatment.  Al is also experienced in process plant design and construction, plant decommissioning and demolition, design-build projects, and operation, maintenance, and monitoring (OM&M) programs. Throughout his career, Al has demonstrated a unique ability to work across stakeholder groups to scale and successfully market new technologies, applications, and services. 
Al holds a Bachelor of Science in Chemical Engineering from Lehigh University and is an active member of the American Institute of Engineers. He resides with his family in Pennsylvania's Lehigh Valley and is based in GES' Exton, Pennsylvania office.
Did you know?
Al spent much of his early childhood growing up in Spain. He later moved to the United States and brought with him a passion for learning and playing the game of soccer. Al attended Lehigh University and played on its Division I soccer team during his undergraduate studies. He continues to stay active in the sport through a number of local and national youth organizations. In addition to his long list of coaching credentials, Al served as the President of the Western Lehigh United Soccer Club, a non-profit youth soccer organization in his community.  These leadership qualities, as well as Al's commitment to mentoring younger professionals, continue to shine on full display here at GES.