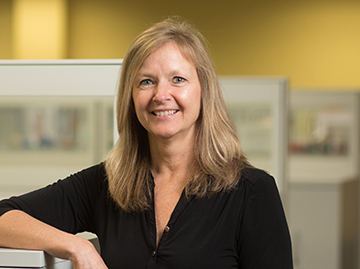 As Chief Operating Officer, Ann Holmes is focused on making sure GES has the right organizational structure, processes, and systems in place to support and drive outstanding client results. With an eye on efficiency, Ann has played a key role in developing and implementing many of the workflow processes and tools currently in place to facilitate the submittal of timely, quality client deliverables. Ann effectively collaborates across company stakeholder groups to align and advance policies and procedures throughout the organization. She sits on the GES' Advisory Council, monitoring business performance and helping to shape key business initiatives and growth strategies. Ann also heads GES' independent petroleum marketer (IPM) sector, supporting client program managers in the development of business plans and strategies for many of GES' longest standing clients. 
Ann's contributions at GES span more than 23 years. She joined GES as a Senior Project Manager after gaining early career experience as a Field Engineer and Project Manager on remediation projects for major oil and gas client in the New England region. Ann quickly emerged as a leader at GES, building on strong client relationships and a drive towards process improvement. She established herself as an Office Manager and then as a Regional Operations Manager, leading GES' sustained growth in the New England region. In these roles, Ann spearheaded the development of several web-based platforms that helped streamline workflows and enhance quality. Ann implemented and refined these processes on a national level in her role as Operations Program Manager in support of a $60 million oil and gas client account. Many elements of this client operations approach are practiced throughout the company today.
Ann earned a Bachelor of Science in Civil Engineering and initially pursued a career in residential subdivision development. A financial market crash and some coincidental timing led Ann to a career in the field of environmental engineering. She hasn't looked back since. Ann is an active member of the New England Convenience Store and Energy Marketer Association (NECSEMA). She resides in Massachusetts and is based in our Westford office
Did you know?
Ann was raised in a family of ten children (child #9), so she learned how to hold her own from early on and understands the value of teamwork. She has carried these traits into her role as a mother, raising two daughters and cheering them on through their pursuits and extracurricular activities. Ann likes to get her hands dirty in her garden and is known to tackle a DIY home improvement project or two.  She also makes time to fuel her competitive streak with health and fitness activities like CrossFit training and cycling.