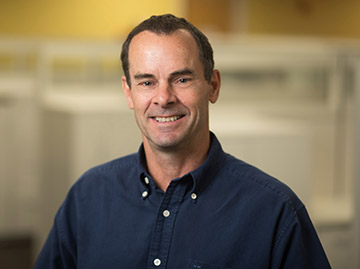 Chris Mulry is a Senior Vice President, serving as a technical advisor and account leader for GES' oil and gas consulting practice. In this role, Chris works shoulder to shoulder with our project teams and clients to develop strategies and solutions for some of our most complex and technically challenging projects. He is intimately involved in GES' quality review process, adding a fresh perspective to projects with a detailed eye towards efficiency and practicality that often yields client cost savings. Chris continues to be a driving force behind the growth of several major, international oil and gas client accounts. He has also been a key contributor to GES' growing presence and activity in the Caribbean market, including projects in Bermuda, the Bahamas, and Puerto Rico.
Chris joined GES as the seventh employee in 1986. Starting as a Field Geologist, Chris quickly accumulated experience managing a range of project assignments including environmental investigations, due diligence programs, and remedial system installations. He continues to serve as a trusted advisor to many of the same clients he supported early in his career. Chris has hands-on experience working in complex hydrogeologic settings including karst and tidal marine environments. He has also employed direct sensing and geophysical tools and techniques as well as completed multi-level evaluations in complex and fractured rock settings. Chris is a recognized thought leader in the industry and has presented to industry groups on a number of topics including Conceptual Site Model development, fractured rock characterization, karst, light non-aqueous phase liquids (LNAPL) behavior, and petroleum vapor intrusion.
Chris has been involved with several Interstate Technology and Regulatory Council (ITRC) teams throughout his career and is a licensed Professional Geologist. He pursued degrees in Geology after a little encouragement from his older brother, a fellow geologist. Chris earned a Bachelor of Science and Master of Science from the University of Delaware and the University of Maine respectively. He is based in our Odenton, Maryland office.
Did you know?
As a geologist, you would expect Chris to be more than comfortable on land. He enjoys outdoor activities like hiking and biking. Nevertheless, his surface of choice is ice. Chris plays actively in a men's ice hockey league, which means suiting up for games while most people are asleep. He brings that same dedication and team approach to work at GES. Chris also keeps a pretty neat rock collection that has built up from his time in the field and throughout his travels.