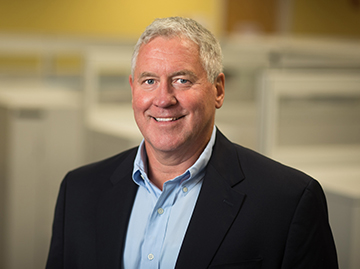 Ed Van Woudenberg has served in the role of President since 1999. He plays a fundamental role in shaping the company's vision and providing strategic direction for business growth and diversification. Under Ed's leadership, GES has expanded into new geographic markets and technical service areas fueled organic growth and several strategic acquisitions. He is unwavering in his commitment to operating safely and is a hands-on contributor to many of the company's quality initiatives.
Ed joined GES in 1990 and has accumulated a range of diverse experience in his more than 30-year career. He learned the business from the ground up, first as a Hydrogeologist at the New Jersey Geological Survey and as a Senior Hydrogeologist in his first private sector consulting role. Ed emerged as a Project Manager who applied sound science, practical solutions, and client advocacy to help clients achieve their environmental objectives. His client-centered approach was instrumental in the management and growth of several of GES' longest, active oil and gas client accounts. He sharpened his operations focus and leadership skills as the Office Manager for GES' New Jersey operations. This role evolved as the company continued to experience growth, leading to the position of Chief Operating Officer and currently as President.
Ed's journey into the field of geology can be considered somewhat circuitous. He served as a Flight Mechanic and Emergency Medical Technician in the US Coast Guard before enrolling in his undergraduate studies. A cross-country trek by bicycle sparked Ed's interest in land formations and inspired him to study geology and geomorphology. He holds a Bachelor of Science in Geology and is a licensed Professional Geologist. Ed is based in our Wall, New Jersey headquarters office.
Did you know?
You're likely to find Ed enjoying the great outdoors when he's not in the office or on the road. Where you'll find him is a toss-up. Ed is an avid offshore fisherman known to bring some pretty big catches back to shore, and trust us, he has the pictures to prove it. Back on land, Ed enjoys gardening and keeping active at the gym.