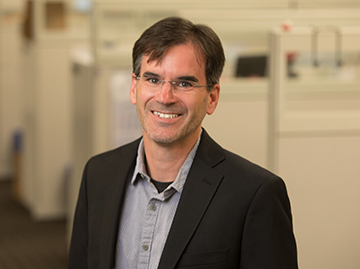 Rich Evans is a Senior Vice President with overall responsibility for the firm's technical practice groups in the areas of engineering, construction, hydrogeology, and drafting. In this role, Rich serves as a senior advisor to project teams across the company. He helps to identify and align staffing resources with client needs, focusing on quality and responsiveness. Rich is also intimately involved with the ongoing development of GES' technical training and professional development programs.   
Rich first joined GES in 1999 as an Associate Engineer tasked with supporting the design and operation of remediation systems. He immediately demonstrated the initiative and leadership qualities that have propelled him throughout his career at GES. Along the way, Rich has developed a broad range of technical expertise that includes remedial investigations/feasibility studies, remedy and system design and installation, construction management, OM&M, in-situ remediation technologies,  and remedy optimization. Rich has earned a reputation as a thoughtful manager and judicious problem solver, attentive client needs and objectives. He has contributed to the success of many of GES' most technically complex and rewarding projects like a decade long effort in support of the development of Remediation Practices for a major, international oil and gas client. 
Rich has been invited to present at a number of industry conferences and is actively engaged in technical industry groups such as the Interstate Technology & Regulatory Council (ITRC) and the Sustainable Remediation Forum (SURF). He holds a Bachelor's Degree in Chemical Engineering from the University of Pennsylvania and is a licensed professional engineer in 16 jurisdictions. Rich is based in our Exton, Pennsylvania office.
Did you know?
There is a lot that gets Rich moving outside of work hours.  He is passionate about leading a healthy lifestyle and finds time to weave in workouts with his wife and daughters (in between a full slate of dance recitals and swim meets). Rich spends his down time reading and dusting off his vast music collection, which includes more than a few heavy metal records from his days as a college radio DJ and Station Manager.