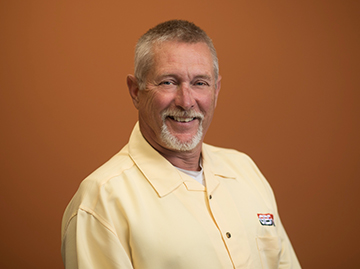 Robin Raudenbush is a Senior Vice President of Oil and Gas and Sector Lead for GES' Exploration & Production (E&P) and Terminal, Pipeline and Refinery (TPR) practices. In this role, he provides senior leadership to GES Program Managers, discipline leads, and subject matter experts to ensure responsive, quality client service. Robin is also a member of GES' Advisory Council of senior leadership, providing strategic insight to key business decisions and initiatives.  His hand-on, collaborative approach to account management has helped cultivate many long-term client relationships, fueling GES' growth and diversification of services in the oil and gas sector.
Robin has more than 30 years of experience implementing programmatic environmental solutions in support of his clients' business goals and objectives. He joined GES in 1994 as a Construction Field Services Program Manager, providing oversight for a major oil and gas client's regional underground storage tank (UST) upgrade and replacement program. Robin's reputation for project execution and client service propelled him into a number of leadership roles within operations and business development. He continues to serve as a Program Manager for several key client accounts, gaining a strong understanding of client challenges and business priorities and aligning GES' technical resources and management approach to ensure successful project delivery.  Robin has helped structure and direct work assignments using a variety contracting approaches, including unit cost contracting and total portfolio management mechanisms to reduce clients' overall annual environmental expenditures.
Robin holds a Bachelor of Science in Business Administration from Bloomsburg University. He is actively engaged in a number of oil and gas industry groups such as the Marcellus Shale Coalition, Colorado Oil & Gas Association, Fuel Merchants Association of New Jersey, and Pennsylvania Petroleum Association.
Did you know?
Robin is an avid outdoor and nature enthusiast. He is a skilled hunter and is a member and co-caretaker of a local hunting club where he helps to maintain and grow the quality of the deer, turkey, and bear population in the region. He is an advocate for safe, responsible hunting practices, often teaming up with his club to teach youth classes on proper hunting techniques and conservation practices. Robin is a life member of the Pennsylvania Keystone Elk Country Alliance (KECA), whose mission is to conserve and enhance state's elk country for future generations. These efforts demand a great deal of planning and teamwork—many of the same qualities that have helped Robin and his teams achieve success at GES over the years.