GES Receives 2021 EBJ Business Achievement Award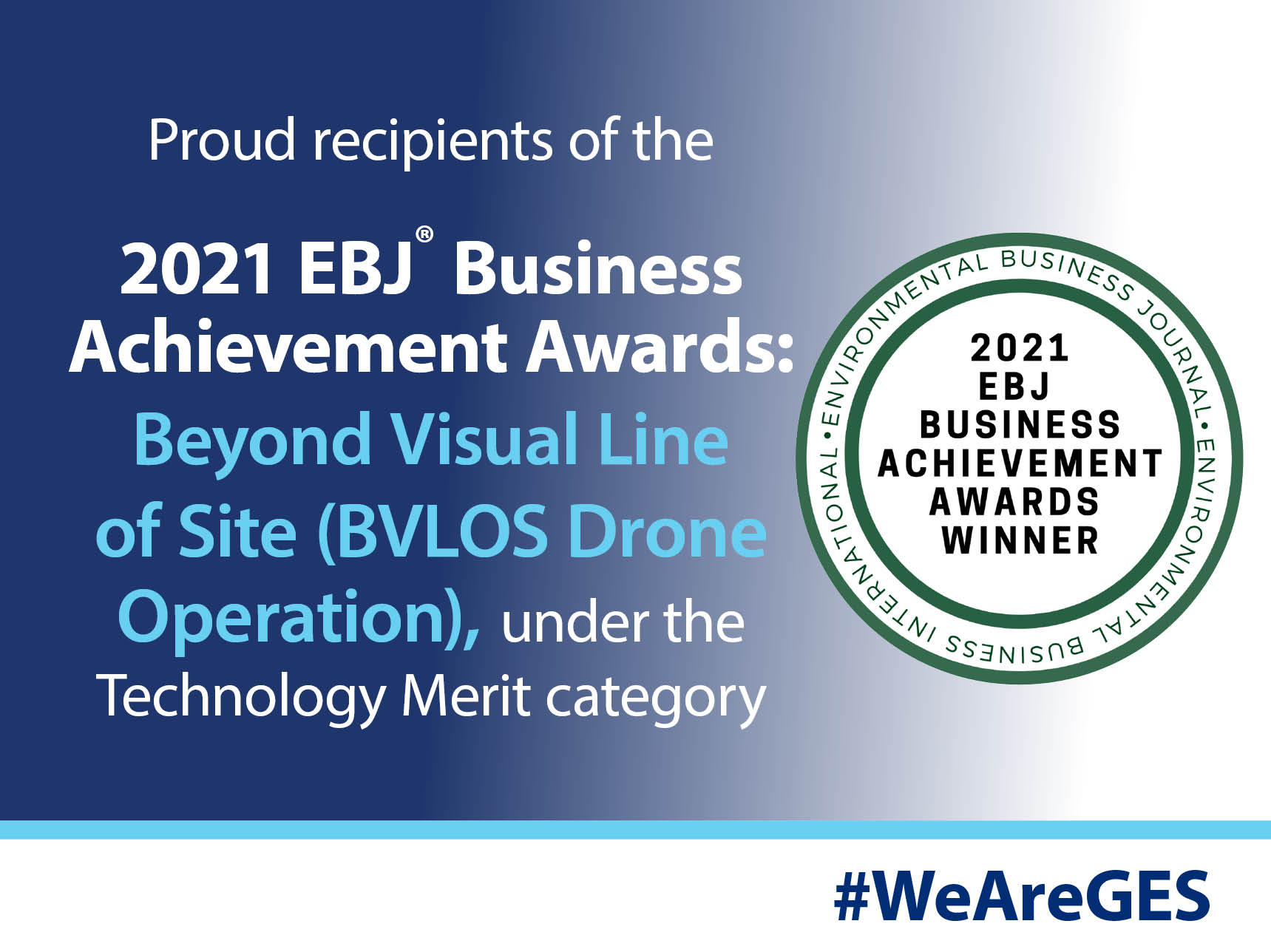 The Environmental Business Journal®1 (EBJ), a business research publication which provides high value strategic business intelligence to the environmental industry1, honored Groundwater & Environmental Services, Inc. (GES) with a 2021 EBJ Business Achievement Awards for Beyond Visual Line of Sight (BVLOS Drone Operation, under the Category of Technology Merit. The 2021 EBJ awards will be presented in-person at the EBJ Business Achievement Awards banquet at the Environmental Industry Summit XX on March 16-18, 2022 in San Diego, and will be accepted by Ed Van Woudenberg. A brief summary of the award submittal is provided below.    
TECHNOLOGY MERIT: BVLOS Drone Operation
In 2021, GES was approved for BVLOS drone operation by the Federal Aviation Administration (FAA) for right-of-way (ROW) utility inspection. Less than 100 companies have received this type of waiver, and GES is one of only two environmental consulting firms to apply BVLOS technology to their projects. Pipelines and energy ROWs are typically monitored by walking, driving, eye-level digital photos and inspection forms, or in some cases, manned aircraft. Drones offer innovative solutions for cost-effectiveness, safety, and improved situational awareness with advanced sensors and data analysis. However, drones have one major obstacle, the operator must repeatedly land the drone and then drive to another location to re-launch it. BVLOS drone operations allows GES to inspect several miles of ROW from a single launch point. This approval is the culmination of collaboration with GES partners in developing the critical combination of vertical take-off and landing aircraft and artificial intelligence to automatically detect and avoid potential mid-air collisions. These risk mitigation strategies are critical elements of GES' FAA-approved BVLOS safety case. BVLOS drone operations are making it safer, faster and cheaper to use drones for environmental inspections for long, linear infrastructure assets and associated facilities.
Click on the following link for the full list of 2021 EBJ Award Winners.
https://ebionline.org/2022/02/07/2021-ebj-business-achievement-awards/
1Environmental Business Journal® provides strategic information and market forecasts for executives involved in 13 business segments, including environmental consulting & engineering, remediation, water & wastewater, air quality & pollution control, hazardous waste, instrumentation, pollution control equipment, waste management, resource recovery, solid waste management, renewable energy and environmental information systems.