Vince Passaro Inspires Undergrads at Alma Mater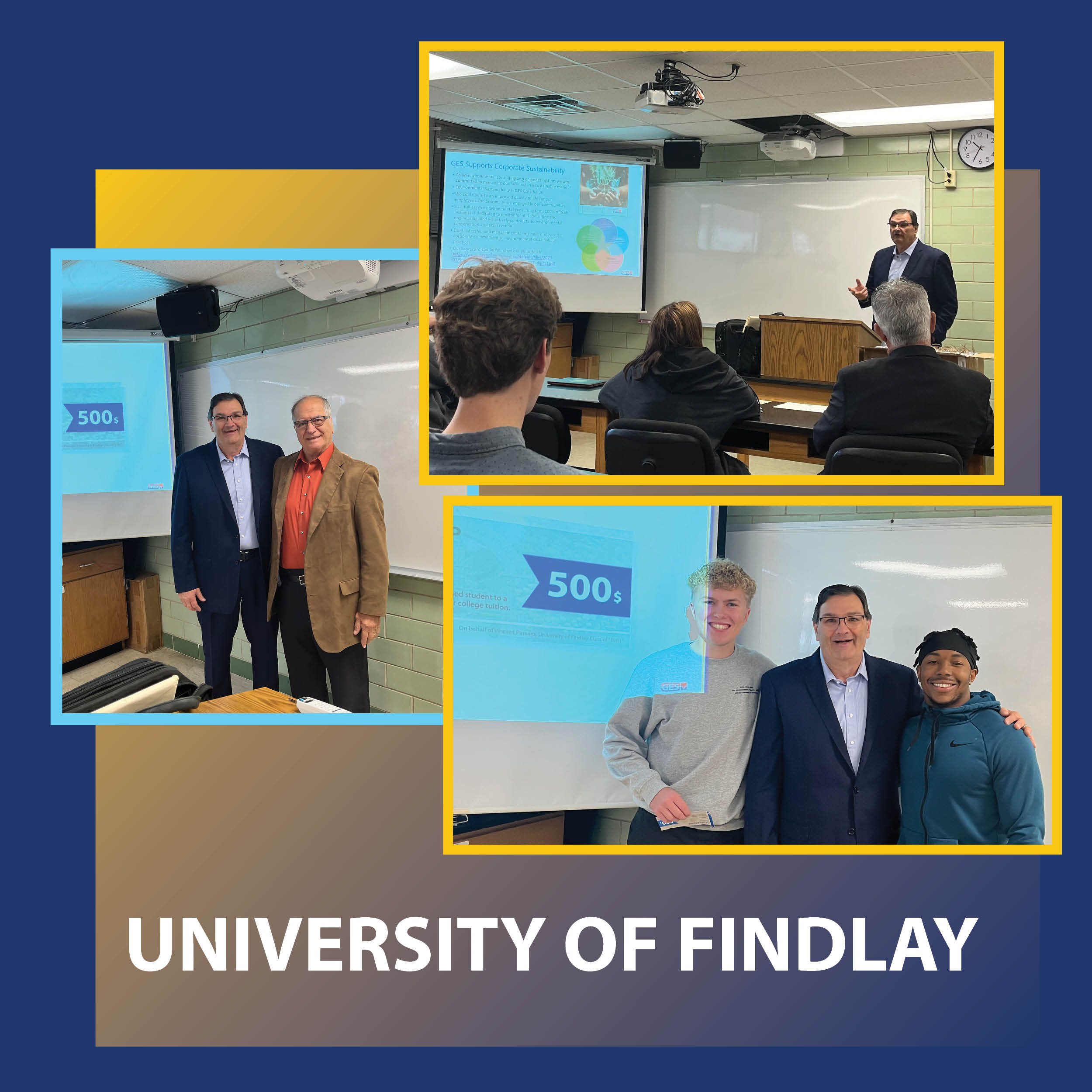 Recruiting environmental professionals to work at GES is vital to our ongoing success. Our own VP of Marketing, Vince Passaro, recently did his part by accepting an invitation from Dr. Kim Lichtveld, MSPH, Chair and Associate Professor, to be a guest lecturer at his alma mater, the University of Findlay, OH (UF). In 1981, Vince graduated with a Bachelor's of Science degree in biology, but he is credited with being their first unofficial graduate of the school's Environment, Health, Safety & Sustainability (EHSS) program.
Stepping outside of his comfort zone, Vince shared the story of his 42+ year journey in the EHSS world to a select audience of 22 students and 7 faculty. He discussed the state of the industry, the most rewarding moments in his career, and how his education and personal connections prepared him for success after graduation in a rapidly evolving industry. 
In attendance at the lecture was Dr. Luke Bartolomeo (retired Chair-Division of Natural Sciences and Dean-College of Sciences), a true mentor both academically and personally to Vince. He used this opportunity to recognize Dr. Bartolomeo for the many accomplishments and academic programs he initiated at the University, which included the Hazardous Waste Management Program (now the EHSS Program). Upon a heart-felt ovation by students and faculty in attendance, Dr. Bartolomeo spoke about how the EHSS program evolved and his relationship with Vince. At the conclusion of the lecture, one Freshman and one Senior student each received $500 scholarships from Vince, and at the end of the presentation, there were follow-up questions.
Vince's inspiring lecture was a WIN-WIN by all accounts. The EHSS students were provided business cards with QR codes linking them to our website for recruiting information and career opportunities at GES. Everyone who attended left with promising new pictures of what it is like to work in the environmental, health, safety, and sustainability market.